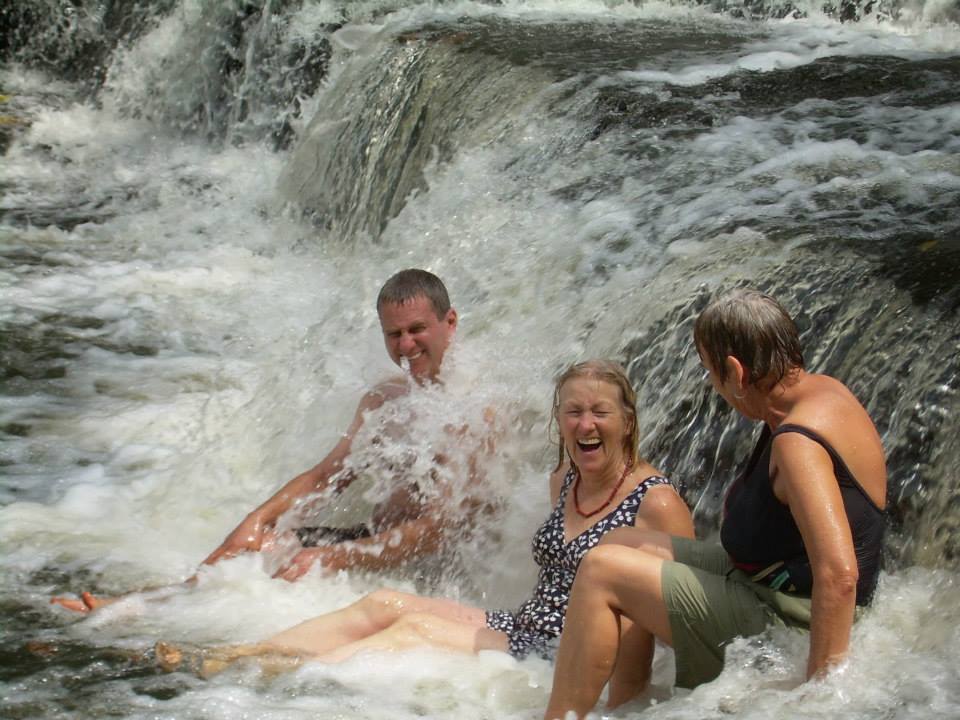 Detailed Itinerary
Day 1 – Arrival at Kotoka International Airport (KIA) in Accra, Ghana, transfer to Mensvic Grand Hotel (transfer included) in East Legon. 
East Legon is an upscale suburb of Accra and only a quick 15-minute ride from the airport.  It is home to many restaurants, shops and a great late-night atmosphere.
Late night snack included.  And water.
Day 2 – Breakfast at the hotel, tour of Accra, walking tour of Jamestown, one of the oldest settlements in Ghana with a rich history of European influence.  Dominated by Usher Fort and Jamestown Lighthouse (1871), this area boasts a lively fishing industry together with the bustle of urban life. 
Lunch in Osu area.
Afternoon visit to Osu Children's Library, (library was started by Kathy Knowles of Winnipeg, Canada), opportunity to volunteer to read with local children.
Dinner and sleep at Mensvic Grand Hotel.
Day 3 – Breakfast at hotel, morning departure for the town of Odumase to visit Cedi Bead Factory.  You will learn how to make your own glass beads, using traditional methods.  Beads are an important part of traditional Ghanaian culture, they have been used in various ceremonies for over 400 years.  Lunch on site.
Afternoon tour of Akosombo dam, the largest source of electricity in Ghana, on the shores of Lake Volta – one of the largest man-made lakes in the world.
Dinner and sleep at the luxurious Royal Senchi Hotel and Resort in Akosombo, on the banks of the Volta River.
Day 4 – Breakfast at hotel.  Early morning departure for Wli Falls, the highest in Ghana, and one of the highest waterfalls in West Africa.  A peaceful 30 minute walk through the forest, over 9 bridges which cross the Agumatsa river led by a local guide, opportunities to see numerous species of birds, butterflies, antelope and fruit bats.   Swimming is an option.   Picnic lunch at falls.
Visit to Tafe Atome Monkey Sanctuary.  A walk through the forest will enable you to see several different families of Mona monkeys.  The guide will entice them to come close to eat bananas or peanuts right out of your hand.
Dinner and sleep at Volta Serene Hotel in Ho.
Day 5 – Breakfast at hotel and drive to town of Dzodje to witness traditional drum and dance ceremony of the Ewe Brekete society.  This is not a ceremony that is normally shown to tourists.  This spiritual music and dance connects the participants to their ancestors.  The society members are always happy to answer questions our tour participants may have.
Lunch at Sogakope and return to Mensvic Hotel in Accra.
Day 6 – Breakfast at hotel, catch a flight (1 hour) to Tamale in Northern Ghana.
Lunch at Woodin Café then drive to Mole National Park.
Dinner and sleep at Zaina Lodge.
Day 7 – Early morning safari (walk or drive) to view elephants, monkeys, deer and warthogs, plus birds and butterflies. 
Lunch at lodge then drive to village of Nanton to watch traditional drum and dance of the Dagbamba people, meeting with the village chief.  Mud houses with thatched rooves make Nanton and intriguing place to visit, again, not normally visited by foreign tourists. 
Return to African Dream Hotel in Tamale for dinner and sleep.
Day 8 – Visit to Tamale Art market, Tamale Chief's palace then flight to Kumasi, capital of the Ashanti region. Explore royal museum of Ashanti King, the huge Kejetia Market in Kumasi.  Dinner and sleep in Kumasi.
Day 9 – Breakfast at hotel, morning drive to Elmina, on the coast.  . 
Afternoon options:  A) visit to longest canopy walkway in West Africa at the top of the rainforest in beautiful Kakum Nature Park, B) leisure time at resort or in Elmina town.  Stay at Elmina Beach Resort.
Day 10 – Breakfast at hotel, drive to Cape Coast for a tour of the famous slave trade castle.  Lunch break at quaint resort on the beach on the way back to Accra.  Dinner and sleep at Mensvic Hotel, Accra.
Day 11 – Breakfast at hotel, attend private performance by the Ghana Dance Ensemble.  Afternoon options include visit to Labadi Beach, shopping at the Arts Centre or Makola Market.
Evening flights back home with great memories, new friends and lots of photos.
*Disclaimer:  although we plan all aspects of our itinerary carefully, due to unforeseen circumstances, some parts of the itinerary may change or need to be modified.  Every tour is unique, and we do guarantee an adventurous experience!