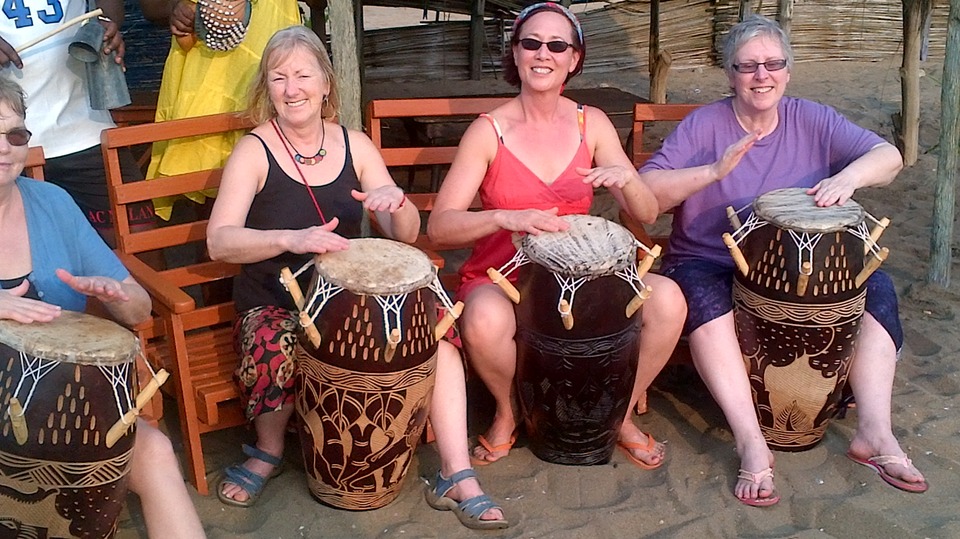 TEACHER TOUR – DRUM, DANCE, SING '24
New New New!!! (Open to all, not just teachers)
This exciting tour taking place in July/August, 2024 is intended for school music, dance and choral teachers to experience the traditional culture of West Africa in a safe, action-packed 14-day trip of a lifetime.  Set on the beautiful coast of the Gulf of Guinea, (the beach is just right there!) this tour will not only allow you to develop your skills in Ghanaian drumming, dance and song, you will be immersed in the culture, giving you the confidence to share with your students what you have learned.  Instruction will be overseen by Orff certified teacher Mme Brigitte Girouard.  Mme Brigitte will aid in making curricular connections and relate the teachings to the Orff approach.
Our team of expert instructors are performing members of the University of Ghana's 'Ghana Dance Ensemble'.  These artists represent Ghana to visiting dignitaries, presidents, etc. as well as host and teach numerous visitors from around the world who come to the university.  They know their stuff!!  Also featured will be University of Ghana faculty and master Gyil (xylophone) player, Aaron Bebe Sukura.
The tour organizers, Christopher Ametefe and Jay Stoller have been co-hosting tours to Ghana since 2011.  Jay looks after the logistical organization and Christopher ensures that all aspects at destination are in place and things are ready for the guests' arrival.