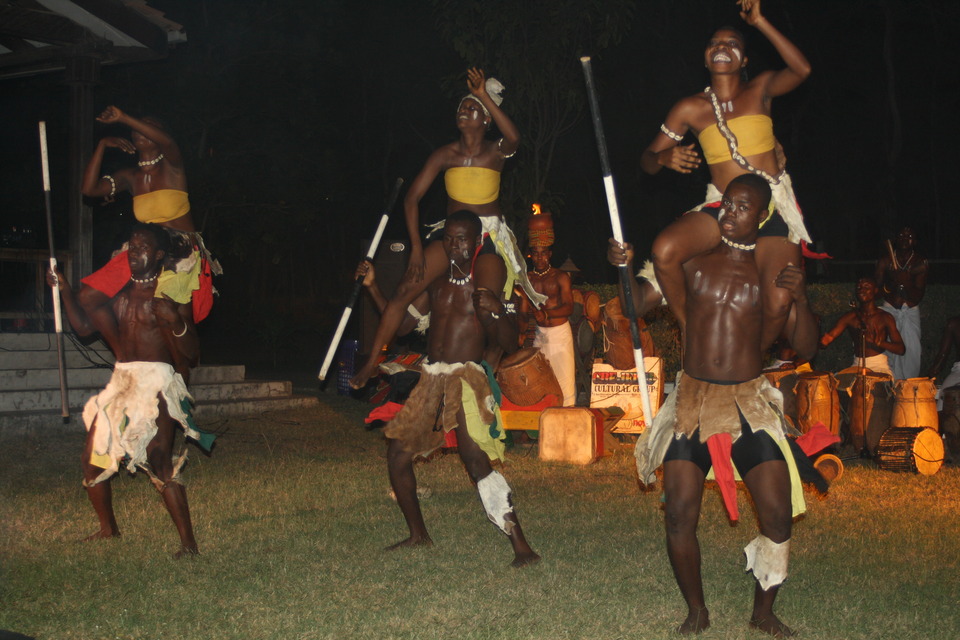 Detailed Itinerary
Tuesday July 23 – Day 1 – guests arrive at Kotoka International Airport in Accra. Met by tour organizers and provided transportation to hotel.
Day 2 – Breakfast in Accra then bus to Volta region, (1-2 hours, depending on traffic) check into lodge, tour of the facility. After lunch, meet the teachers and initial classes in drumming and dance.
Day 3 – (groups alternate between drumming and dance classes) session 1 drumming runs 9:00-10:15, session 2 dance runs 10:45-12:00. Lunch. Session 3 drumming runs 1:30-2:45 and session 4 dance 3:15-4:30.
7:30-8:30pm on the beach, learn to sing Ghanaian songs
Day 4 – as above
Day 5 – Morning classes only, afternoon excursion to watch drumming and dance in town.
Day 6 – Morning classes only, afternoon excursion to town of Dzodze to experience/partake in sacred Brekete ceremony (traditional religious drumming and dancing)
Day 7 – session 1 Gyil (xylophone) 9:00-10:00, session 2 drumming 10:30-11:30. Lunch. Session 3 dance 1:00-2:00, session 4 drumming 2:30-3:30, session 5 4:00-5:00. Dinner. Singing on the beach 7:30-8:30.
Day 8 – as above
Day 9 – as above
Day 10 – as above
Day 11 – Schedule as per Day 3
Day 12 – AM departure to Accra (1-2 hours depending on traffic). Afternoon tour of Accra, could include Makola Market, Du Bois Centre, Nkrumah Memorial Park, Bukum suburb
Day 13 – AM departure for trip to Cape Coast (3-4hrs, depending on traffic) to visit former slave trade castle, optional stop in Kakum National Park (rainforest canopy walkway), return to Accra
Monday August 5 – Day 14 – AM private performance by the Ghana Dance Ensemble at the University of Ghana, goodbyes and final photos, check into the airport for flights home.
*Disclaimer: although we plan all aspects of our itinerary carefully, due to unforeseen circumstances, some parts of the itinerary may change or need to be modified. Every tour is unique, and we do guarantee an adventurous experience!